Universal Group
News and Activities
Universal Group of Companies Celebrates International Women's Day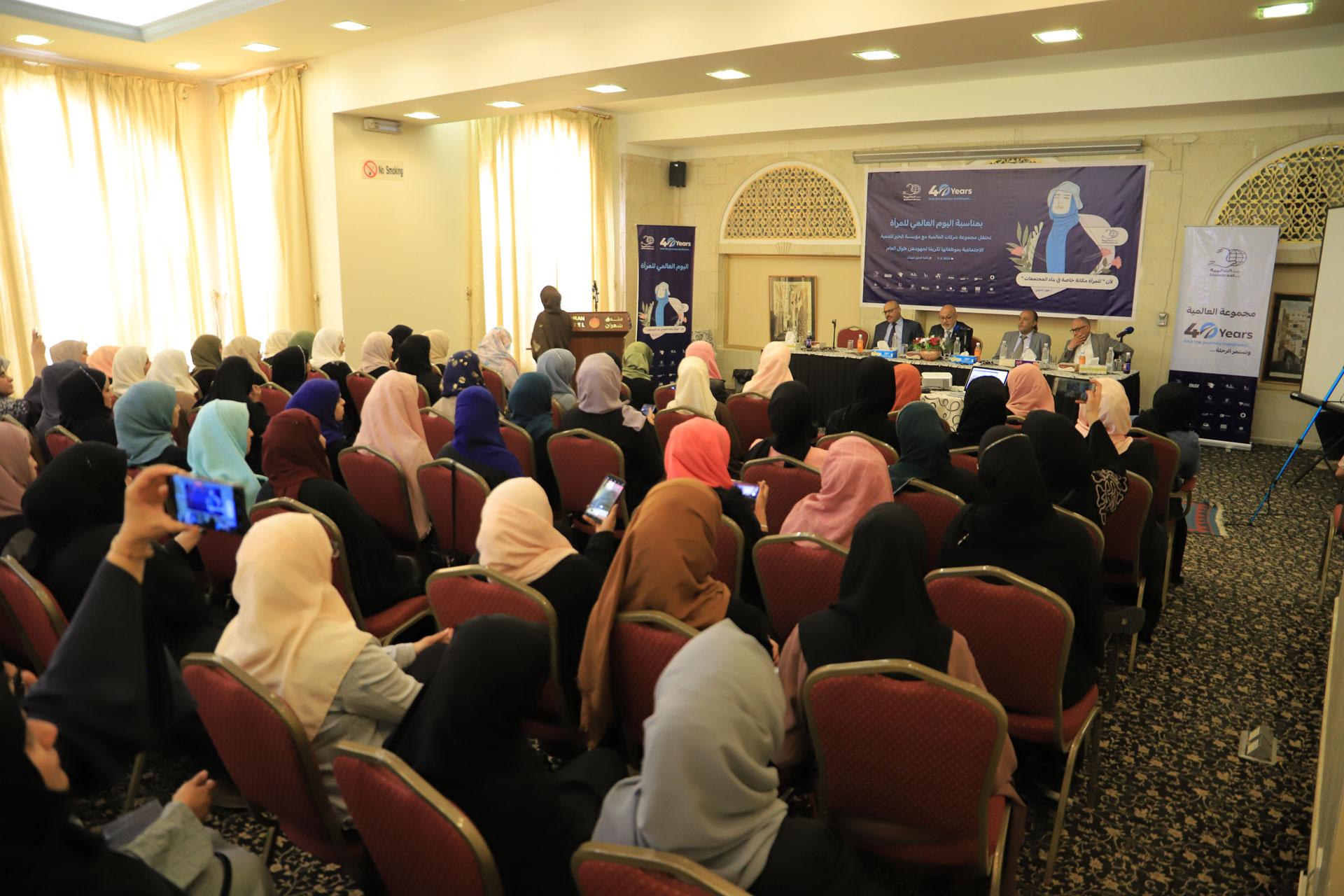 On February 9, 2023, Universal Group of companies, in the presence of Mr. Omar Yaqoob, the Chairman of Universal Group, via Zoom, Mr. Jamal Omar, UG General Manager, and all general sectors managers, celebrated its female staff at Shahran Hotel, a hotel of UG, on the occasion of International Women's Day. This celebration is held annually as an extension of the belief of our late leader, Mr. Alwan Saeed Al-Shaibani, as well as all our leaders and general managers in the main role of women in community building.

The celebration was inaugurated with a speech delivered on behalf of our late leader's two daughters, Mrs. Thoraia and Lina Alwan Saeed Al-Shaibani, referring to the constant belief of Mr. Alwan Al-Shaibani in woman's main roles in all various fields of her life. They both also referred to the great and unstoppable ability of women to achieve and deliver on aspirations in creating their present and facing the most difficult circumstances as a mother who sacrifices and strives, a sister who struggles and works to help her family, or as a friendly and diligent daughter, or loving and supportive wife. At the end of their speech, they sent their best wishes to all Universal Group and its subsidiaries' female staff on this occasion and urged them to work together to portray a bright and honorable model that proves the ability of all women to achieve the best, give and succeed in all areas of life.
In his turn and on behalf of all UG leaders, Mr. Jamal Omar, UG General Manager, shed light on the importance of women's role in the community in general and in all UG companies in particular. He also pointed to the features that distinguish women based on scientific research, such as discipline, integrity, commitment, speed of learning, accuracy in achievement, patience, and endurance, making them the ideal individuals that can be counted on. In a brief speech delivered by the Commercial Sector Manager, Mr. Ahmed Abdulmalik, in which he referred to the greatness of women in general and the greatness of the Universal Group of companies' female staff in particular, wishing them all success in both their personal and work life. In her turn, Ms. Maha Shamsan urged and motivated all-female staff to continue with the same progress and prosperity, pointing out that woman is an indispensable and important element. She also said that women have a great and unstoppable ability enabling them to reach and assume the highest leadership positions as their male counterparts, especially in the friendly and supportive environment that the Universal Group and its subsidiaries provide to women.
At the end of the celebration, Mr. Jamal Omar cited a situation faced by our dear late Mr. Alwan Saeed Al Shaibani, proving his appreciation, respect, and belief in women and their role in our communities. Where Mr. Alwan Al-Shaibani noticed while he was invited to a graduation party held for a group of students in Marib that the male students sat in the front seats, while the female students wanted to sit there. However, the male students refused, thinking that men had the right to sit in the front, so Mr. Alwan Al-Shaibani said to the group of students "In our traditions, women are always walking or sitting in front of men to be protected by men, but If you want women to protect you, then you can sit in the front seat." Then the male students moved directly to the back seats.