ULC
Universal Yemen for Logistic Support & Construction Co. Ltd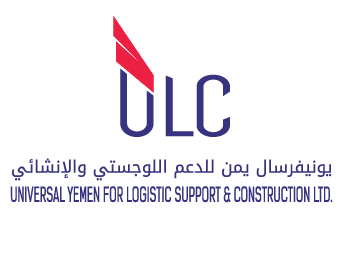 Universal Yemen for Logistic Support & Construction Co. Ltd
ULC is one of the leading providers of project services to the oil and gas sector. It also specializes in engineering supplies, hospitality, energy solutions, construction, maintenance, and manpower supply, thus offering a wide range of solutions to various clients and large organizations. ULC applies the highest standards of services in project management, procurement, supply and safety.
One of ULC's pilot projects is a major accommodation project in Sana'a; "Haddah Guest House". This vast compound offers one of the most prestigious comprehensive housing services in the capital and consists of over 200 fully furnished apartments as well as restaurants, swimming pool, playgrounds, fitness and recreation facilities, all located in a housing complex managed by a prominent hospitality operator.
Lately, ULC inaugurated one of its most recent and biggest projects; the "Grand Address Hotel" in Sana'a. This was possible after carrying out a comprehensive rehabilitation and makeover of one of the capital's massive hotel properties which has recently opened to guests and visitors for accommodation, leisure and conferences. Located on the heights of Nuqum Mountain overlooking the old city and most of Sana'a, the hotel covers a large area of gardens and facilities designed for guest comfort.